Jun
16
2015
Pope Francis, women presidents, the rise of Pentecostalism and the enduring bond of religion and politics in Latin America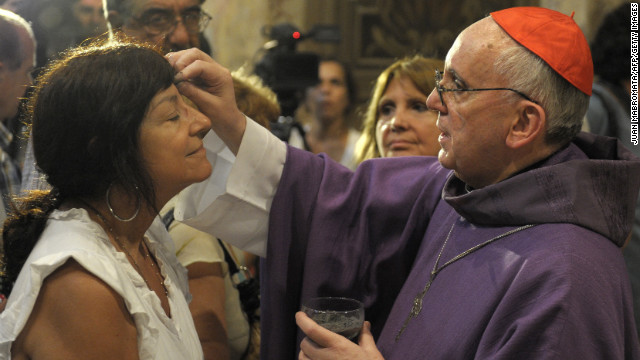 By Fortunato Mallimaci*
The Western script on religion and politics, inspired by U.S. political scientist Samuel Huntington, increasingly sees international conflict as clashes of civilizations and cultures between Western Christianity and Eastern Islam.
International conflicts no longer are analyzed with economic, political, geostrategic, social or cultural categories since the press and "think tanks" carrying hegemonic power have made analysis almost exclusively in religious terms.
Forget, for a moment, the inadequacies of lifting up as representative of global faiths small groups of extremists that fail to acquire massive followings in the religious world.
No one today would consider speaking of Christian terrorism, or Jewish terrorism, or Catholic terrorism as easily as Western commentators speak of "Islamic terrorism." There are diverse Christianities, Catholicisms and Judaisms; there are also diverse Islamisms.
Even the concepts advanced in contemporary social sciences that scientific progress would lead to a slow retreat of religion from the public square are in crisis.
In fact, when it comes to religion and politics in Latin America, a land of increasing political and religious diversity, you can throw many of the Western scripts away.
This is not the story of an inexorable march toward secularism, or a descent into holy wars. The paradigm of Latin American religious modernity is rather an evolving dance among political, social and religious forces in a region experiencing the longest democratic process in its history.
The question is not whether there is a link between politics and religion in Latin America. Instead we ask how, with whom, and from where has it developed
No single movement or person, even a pope, can be understood on their own.
Democracy rising
After decades of militarism and authoritarian rule, Latin Americans today live in a continent where the popular vote, the extension of rights, distribution of wealth, the fomenting of Latin American unity and rejection of armed conflicts between nations are common goals.
Reflective of this new political diversity, there were four female presidents in 2014 – Michelle Bachelet in Chile, Laura Chinchilla in Costa Rica, Cristina Fernandez in Argentina and Dilma Rousseff in Brazil. At the same time, giving way to a multicultural society, a descendent of the native populace – Evo Morales – governs in Bolivia.
With the transitions to democracy and more pluralistic societies, the Institutional Catholic Church has lost much of the formal power it was granted by many of the dictatorships that cultivated close relations with religious groups.
Yet numerous Judeo-Christian categories remain in force, secularized but without losing their sense of origin; to nominate, differentiate, and prioritize symbolic, political, and social spaces.
The democratic presidents of Latin America use narratives abundant with signs, rites, and sacred symbols that resonate with Christians and religious individuals.
The current presence of a pope from Argentina with broad language and gestures originating in Latin American politics revives the old narrative of a Latin America Catholic culture separate from the U.S. White Anglo-Saxon Protestant culture. That helps increase Catholic identification even in more secular countries such as Uruguay or multicultural as Bolivia or communist as Cuba.
Still, the transformation to religious pluralism has already taken place.
There is no longer a Catholic monopoly, but there remains Catholic hegemony with a diffuse culture and also a popular religiosity extended over society. It is a change not to be forgotten in any interpretation of Latin America.
Competition shifts Latin American religious field
It is not politics, or any massive regional shift toward imposing secularization, that is most responsible for the Catholic Church finding itself having to compete for social influence.
This is due to other byproducts of democracy in areas such as religious freedom, gender and sexuality, citizenship, diversity, communication and leadership.
Men and women today do not believe (or doubt) more or less than they did 100 or 50 years ago. They believe (and doubt) in a different manner. What makes the current period different is the extent to which all these phenomena have gained greater public visibility and different institutional forms.
The main challenge to the Catholic monopoly did not come from political society or from agnostics or atheists, but instead from other active and growing religious groups in the market of goods of salvation. In particular, Pentecostal groups have made rapid and dramatic gains throughout a continent that has seen no loss in religiosity.
More than four in five Latin American adults reported being raised as Catholics, but just about seven in 10 say they are Catholic today. In contrast, 9 percent of Latin American adults said they were raised as Protestants, but 19 percent say they are Protestant today, according to a Pew Research Center survey.
The current emergence of new beliefs in Latin America and the transformation of identities and affiliations allow us to speak of an "active market of symbolic goods" which ends the old Catholic monopoly. The symbolic construction of Catholic identity with national as well as Latin American identities has ceased to be valid.
It is the evangelical world today in its multiple expressions and especially Pentecostalism, fundamentally evangelical but also Catholic, which is widening, diversifying, and expanding across the continent.
At the same time, continuous years of democracy, not forgetting that it is the longest period of democratic rights in Argentina, has produced a quest for religious citizenship where each person is considered with equal rights and therefore wants his religious belief treated in an equal manner to the official or majority faith.
Church and state are not so easily separated in Latin America, however.
A narrow separation
A continent both committed to democracy and respectful of the religious beliefs woven into its history, culture and the everyday lives of many of its citizens is finding its way in determining boundaries between church and state.
These tasks include protecting freedom of conscience, limiting discrimination, promoting equality and eliminating government favoritism of any religious group.
That heavily Catholic Argentina in 2010 became the first nation in Latin America to approve same-sex marriage was a clear social defeat of the Catholic institution led by then-Cardinal Jose Bergoglio (now Pope Francis) that appeared massive and monolithic in opposition to those rights.
Yet the law was proposed as an extension of democratic rights, not as an act against the Catholic Church.
That Catholicism still exerts strong moral influence on other public policy issues in Argentina is evident in the continuing ban on abortion, and in the most-favored legal status provided to Catholicism in the constitution. All non-Catholic groups have to register with the government.
It is also important to distinguish the constitutional separation of state and religious groups from the multiple negotiations and ties between political and religious groups.
The state does not monopolize but instead develops public policies of health,  housing, education and culture in close collaboration with religious groups to which funding for these activities is provided. And this is not only for practical purposes; this is driven by the beliefs of the governmental actors themselves and civil society.
Those partnerships are being reconstituted, however, as new religious groups such as Pentecostals claim more adherents.
The plurality has not meant more separation between the state and religious groups, but instead there is a redistribution of the Catholic privileges towards the new and emerging competitors in the religious field.
There is another major difference: Many religious individuals are distancing themselves from organized religion. For example, a 2008 national survey found 11 in 12 Argentinians have a strong belief in Jesus Christ, but just 7 percent believe the opinions of bishops and pastors should prevail in contraceptive policies.
Secularization does not mean the disappearance or privatization of religious beliefs but rather their continuous reordering.
Looking to the future
We live in the 21st century with a new presence of religion and spirituality in the public space; some call this postsecularization. When we speak of secularization in Latin America, we are discussing pluralization, deinstitutionalization, deregulation from clerical control, restructuring of beliefs and transfer of categories and languages from the religious world to the socio-political world
In our nation, as in most of Latin America, what was and is dominant is what we can refer to as subsidiary laicity.
Political parties and social movements seek to have 'policies for religious groups' and religious groups seek to have 'socio-religious epistles' for the state, political society and civil society.
Today we do not seek to isolate religion from political power. The effort instead is how to take advantage of– also subordinate — the power of the religious or of the church to strengthen the political discourse. Latin America is an example of how public manifestations of religious belongings interact in a pluralist society, a state that expands rights with a laicity of narrow separation. There is continuous innovation in the form and expression of whatever counts as religion. The repeated cycles of change bring new organizational forms on to the scene, and bring new generations of leaders.
What will the effect be of a pope that is Latin American and as popular as Francis on these changes?
It is very difficult to risk forecasting something so vital, so profound and complex as religious projections are in the long run. Two decades ago, there were discussions that Latin America was becoming Protestant, yet we are far from it. It is just as risky to claim that a Latin American pope influences identities globally alongside religious formations in this part of the world.
We are in the presence of profound religious and ethical reconstitutions of the social, the political, the economic and the cultural that are not transformed by one or another charismatic person, nor by media powers, but by a widespread effort to transform structures and people.
Still, a pope is a powerful ally for Latin American politicians to have, particularly a pontiff that is popular among ordinary women and men.
What we do know is that to be properly understood, the relation of religion and politics in Latin America has to be viewed in the context of the socio-political narratives that have dominated our national histories.
As we have been claiming for years, Latin American modernity is not that of Europe or the U.S. Our modernity reflects our experience.
*Sociologist Fortunato Mallimaci of the University of Buenos Aires is a leading authority on religion and politics in Latin America. He is also coordinator of the Society, Culture and Religion program for the National Council of Scientific and Technical Research (CONICET) and was director of the 2008 Survey of Religious Beliefs and Attitudes in Argentina.
Resources:
ARDA National Profiles: View religious, demographic, and socio-economic information for all Latin American nations with populations of more than 2 million. Special tabs for each country also allow users to measure religious freedom in the selected nation and read the key parts of its Constitution referencing religion.
ARDA Compare Nations: Compare detailed measures on religion, including religious freedom and social attitudes, for up to eight nations.
First Survey on Religious Beliefs and Attitudes in Argentina. This national study measures a wide range of beliefs and practices, and other variables such as social and political attitudes.
Religion in Latin America: Pew Research Center: The Pew Research Center survey examines religious affiliations, beliefs and practices in 18 countries and one U.S. territory (Puerto Rico) across Latin America and the Caribbean.
The Association of Religious Social Scientists in Mercosur. The association of Latin American religion scholars contributes to the scientific study of religion in the region through conferences and publications.
Articles:
Ed: Cuda, Emilce. Religion and Politics in Latin America. A special issue of the Politics and Religion Journal features scholars examining several facets of religion-state relations.
Ed.: Eguizábal, Cristina. Religion in Latin America. This special edition of the magazine Hemisphere features several articles exploring the complexity of religion in present-day Latin America and the Caribbean.
Mallimaci, Fortunato, and Esquivel, Juan Cruz. The Triad of State, Religious Institutions and Modern Society in Latin America. The article traces the development of the complex relationship among the state, power groups, civil society and religious institutions, groups and individuals in Argentina.
Books:
Casanova, Jose. Public Religions in the Modern World. The book surveys the roles religion may play in the public sphere of modern societies, challenging assumptions about the role of modernity and secularization.
Levine, Daniel. Politics, Religion & Society in Latin America. The book explores how religion in Latin America has diversified and flourished, while taking on new roles in more open societies.
Ed. Mallimaci, Fortunato. Religion and Politics. Perspectives from Latin America and Europe. This book offers a plurality of perspectives on the evolving relationship between religion and politics.
Image Presidencia de la Nación Argentina [CC BY 2.0], via Wikimedia Commons
Image Korea.net / Korean Culture and Information Service (Photographer name) [CC BY-SA 2.0], via Wikimedia Commons